Shirdi Sai Baba
The life of Sai Baba is as deep as the Ocean and as holy as the Ganges. Sai Baba always spoke of one Supreme Truth, "Sab ka Malik ek" (God is one for all). As the Sun along with the five elemental forces sustain the whole of creation without any religious discrimination, likewise, God is One for the entire creation. Sai Baba urged people to demolish the artificial barriers of caste, creed and stand united, replacing fanaticism with love and fraternity. As all rivers flow into the mighty ocean, so do the various paths taken by men lead to the same goal and ultimately merge into the Supreme Consciousness. Sai Baba preached that there is only one religion – the religion of Humaneness.
God-incarnates come into the world with the specific objective of "protecting the innocent, destroying the wicked and re-establishing righteousness." As soon as their mission is complete, they leave the world, attaining "Maha Samadhi thereby dispensing with their mortal frame. With the passing away of Sai Baba, one should not consider it to be the end of a glorious chapter. On the contrary, the blessed phase has just begun.
Sai Baba left behind a legacy of priceless possessions; a limitless treasure of His divine teachings, saturated with the nectar of Love, Compassion and Humaneness. He left His divine footprints deeply embedded in the ever-shifting sands of time. His wonderful teachings are like precious jewels, set in the golden crown of Eternity, shining bright notwithstanding the relentless passage of time.
When one reads the wonderful life of Sai Baba, one finds that His whole life itself is a divine preaching. His service was laced with "Shraddha" and "Saburi" – perseverance and patience, of which He often spoke of. Since the last one and a quarter of a century, days have changed, man has changed, the world has changed, but the wonderful Leelas of Sai Baba remain unaltered. Just like a freshly cut diamond shines in all its maiden glory catching the brilliant light of the dazzling Sun, so does the glory of Sai Baba shines on – unchanging, unceasing, unfading!
"In this Kali Yuga, Sai Baba is the magnetic force who touches and connects with everyone irrespective of caste, creed or religion. He accepts devotion offered in any form and way."
THE FOUNDER
Our sacred land of Bharat, India, is reputed to be the land of piety, purity and penance. India is the land of Karma; the land of Dharma; the land of Gnana; and the land of Yagna. It is the land of countless saints, seers and enlightened souls, who have taken birth on this very sacred earth.
One amongst such unique Satpurushas is Pujya Sadguru Sri Sri Sri Sai Kumarji.
Since childhood, Sadguru Sai Kumarji has been an ardent devotee of Lord Shirdi Sai Baba.
In the life of every divine personality, there is the all pervading influence of the Supreme Force that may manifest itself in different forms to different people. In the eventful life of Pujya Sadguruji, the invisible hand of Shirdi Sai Baba, has been and continues to be a great source of inspiration and guidance throughout.
There is no devotee who has not been benefitted by His selfless love, His compassion, His love for truth and righteousness. Like all great satpurushas, He shies away from limelight. He loves to remain hidden, carrying out His mission in an inconspicuous way.
With the wealth of His medical and spiritual knowledge, Sadguruji is constantly reaching out to countless people. An epitome of unconditional love and grace, His soothing words and touching concern, wipes many a tear. Sadguruji toils tirelessly and is in the service of mankind rendering care and attention to the sick and the ailing, helping the poor and the underprivileged.
He is a Karma Yogi, helping us to understand the secrets of karma and lead a joyful life. As a Raja-Yogi, he is an Ayurvedic Doctor treating the sick and as a Gnana-Yogi, an enlightened Spiritual Master bestowing Supreme Knowledge. In whatever role we perceive Him, it is no exaggeration to say, Saduguruji occupies an inimitable place in everyone's hearts.
Pujya Sadguruji's main aim is to render at least an iota of services to the people and show them the way to Spiritual Freedom by taking a leaf from Sai Baba's life of Love, Compassion and Mercy. In due reverence to His guiding force, Shirdi Sai Baba, Pujya Sadguruji set up "Dr. Sai Kumar Vyadhi Nivarana Ashram" in Hyderabad District, Telangana State, India.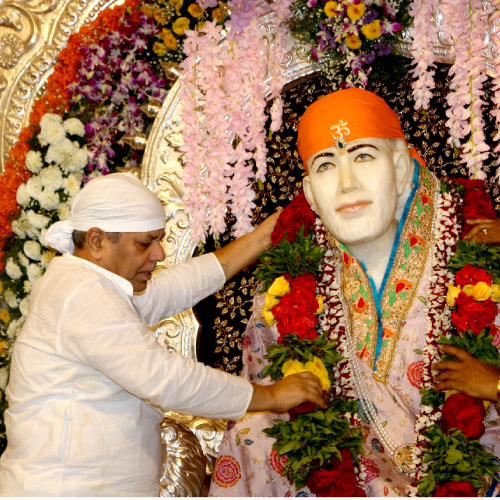 DR. SAI KUMAR VYADHI NIVARANA ASHRAM
During childhood, Sadguruji often would have a vision of a young Shirdi Sai Baba appearing to be in His forties sitting in a stone structured hall. In 1973, Sadguruji founded the Dr. Sai Kumar Vyadhi Nivarana Ashram and in 1982 established it in Padmarao Nagar in Secunderabad, Hyderabad District, Telangana State. As per his childhood vision, a 6ft. marble idol of Sai Baba was installed in the Sai Darbar of Dr. Sai Kumar Vyadhi Nivarana Ashram on Thursday, May 6th 1982 amidst colorful rituals performed for nine consecutive days. On Sunday, May 9th the "Mukha Dwaaram" was opened to the general public by five young boys. Since then Sai Baba is showering His blessings to hundreds of thousands of devotees who visit the sanctum sanctorum. As the name of the Ashram confers, Sadguruji's chief endeavour is to treat people suffering with different ailments through ayurvedic herbs and concoctions.
Each morning begins with the Bhoopali and Kakad Arathi at 6.20 am followed by Abhishekam, Alankarana and Archana. All the Arathis are offered – Madhyan Arathi at 12 noon, Sandhya Arathi at 6.30 pm, and Shej Arathi at 9 pm. Dhuni, a sacred fire kindled by Sadguruji, burns in the Ashram, round the clock. The ash, called Vibhuti yields marvelous healing effects and is partaken by devotees with utmost reverence.